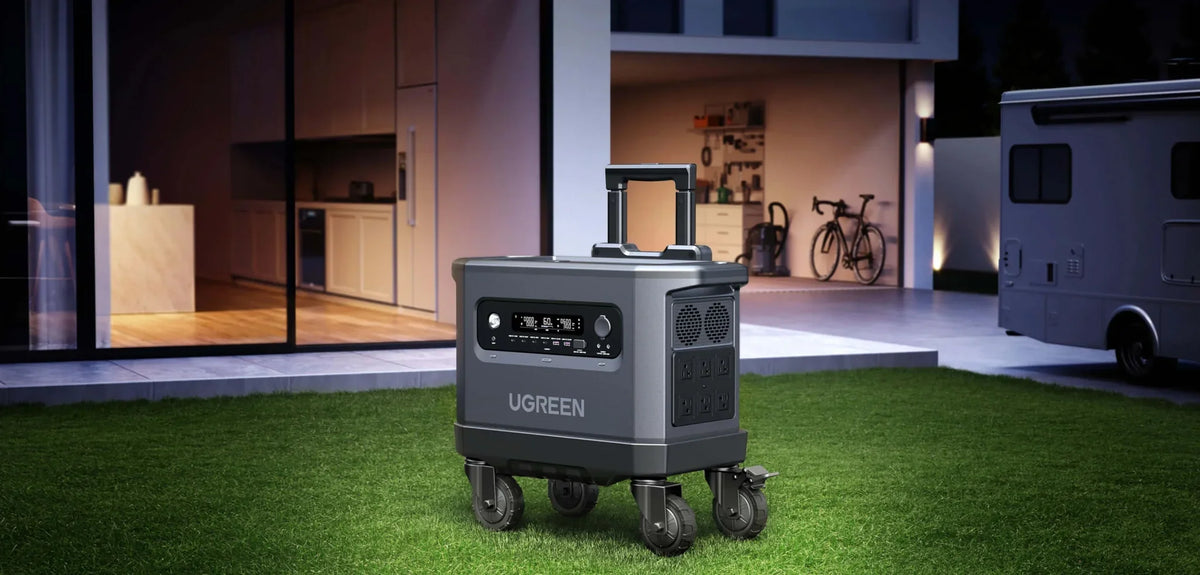 Ugreen PowerRoam 2200 Power Station: Everything You Need to Know
Wait, what, you have been looking for an ultimate power station? There can be no better option than the top-tier Ugreen PowerRoam 2200 Power Station! Ugreen is truly doing wonders in aiming to deliver excellent quality to its customers. Sticking to the slogan, "Power Anything, Anytime, Anywhere," Ugreen's team has developed multiple products. But nothing can beat the high-end features of this one!
If you are curious to know more about the Ugreen PowerRoam 2200 Power Station and its buying guide, this article has covered you in this comprehensive guide! It boasts all the factors that you should consider before investing in it. Let's dive in to begin exploring!
Rev Up Your Device with Warp-Speed Recharging
Are you tired of your power station taking too long to recharge? No worries! With Ugreen PowerRoam 2200 Power Station's warp-speed recharging, you can swiftly recharge your device to 80% in 50 minutes and 100% in just 1.5 hours. Thanks to the innovative Ugreen PowerZip Technology! 
The best part? You can charge in three different ways:
AC Outlet: When connected to an AC outlet, the power station gets recharged according to the figures mentioned above. 
Solar Panel: In the case of solar charging, the speed would be slow. Your device will recharge in 2.5 hours when connected to six 200w solar panels. 
Car Charger: Lastly, you can also rely on your car's DC port. Car charging will consume 12 hours as recharging time. So, the best approach remains using an AC outlet. 
Note: These statistics were collected in lab conditions; actual charging speed may vary, but not that much. 
Fuel 99% of Your Appliances
Unlike other portable power stations, Ugreen PowerRoam 2200 Power Station offers impressive power output to 99% of home appliances. Wondering how? U-Turbo Technology's built-in advanced algorithm boosts power up to 3500W for high-wattage appliances. 
 

Appliance

wattage

2200W runtime

Home Backup Power

Refrigerator

360W

12H

Coffee Maker

1000W

1.7H

Space Heater

1500W

1.2H

Toaster

1300W

1.3H

Electric Blanket

55W

31H

CPAP

40W

43H

Professional Power

Electric Chainsaw

1440W

1.2H

Electric Drill

1200W

1.4H

Miter Saw

1440W

1.2H

Electric Nailgun

1500W

1.1H

Power for Outdoors

Electric Grill

1000W

1.7H

Air Pump

40W

43H

Blender

1000W

1.7H

Drone

77Wh

22 Times

Laptop

58Wh

30 Times

Phone

12Wh

145 Times

Power for RVs

Mini Fridge

45W

38H

Kettie

700W

2.4H

Hair Dryer

1875W

0.9H

Microwave

700W

2.4H

Projector

60W

29H

Speaker

28W

62H
The LiFePO4 Battery That Never Quits
Portable power stations seem a blessing unless and until you have to deal with the battery-changing costs every few months. It's because, on average, portable power stations have 600 recharge cycles. But you can skip this headache with Ugreen PowerRoam 2200 Power Station. It comes with a PowerRoom 2200 LFP battery that offers 3000 recharge cycles at 80% capacity. 
Moreover, the LiFePO4 battery doesn't require hectic maintenance to increase lifespan. Once bought, it will accompany you for the next ten years. Other notable perks of this battery include minimal memory effect, ultra-durability, lightweight, and sustainable charging. 
Advanced Security and Efficiency with Battery Management Systems (BMS)
The battery management system, i.e., BMS of the Ugreen PowerRoam 2200 Power Station, is featured inside a high-durability shell. It's a high-strength integrated polycarbonate ABS shell that shields the power station from drops and bumps.
BMS features Lithium Iron Phosphate (LiFePO4) batteries. Unlike conventional batteries, these charge swiftly when maintaining a relatively long life cycle. BMS ensures real-time monitoring of voltage, current, temperature, and other parameters, offering intelligent protection against electricity wastage and ensuring optimal efficacy. BMS also safeguards from over-current, over-voltage, and overheating.
Convenient Portability with a Detachable Trolley
Gone are the days when you had to manually transfer the power stations from and to the charging spots. Now, you can simply enjoy more mobility and convenience with the detachable polybutylene trolley. With it, you can combat the fear of slipping over rugged surfaces when holding a power station. 
The best part? This trolly folds up to cover less space in storage. Moreover, it's pretty easy to clean, so you won't have to spend hours reviving the cleanliness of your detachable trolley. 
Enjoy Uninterrupted Power Supply (UPS)
Whether you suffer from a power outage or an electricity shutdown, PowerRoam 2200 has your back. Just connect it to the outlet and get an uninterrupted power supply within 20ms switchover time. So, with Ugreen PowerRoam 2200 Power Station, you can smartly escape the power outage effects. 
Expand Your Capacity from 2kWh to 12kWh
Do you find the battery capacity insufficient to deal with emergency power outages? Or do you just want to keep a backup resource? Get your hands on up to five expansion batteries and sextuple the capacity of a PowerRoam 2200. These batteries can offer a substantial capacity increase from 2kWh to 12kWh. 
Owing to them, you can customize your energy requirement based on your needs. Note one thing: you get a simple plug-and-play design that makes it easier than ever to stay prepared for emergencies.
Limitless Potential with an Abundance of Ports!
Each Ugreen PowerRoam 2200 Power Station comes with 16 outlets that can connect to any device. This abundance of ports offers space for any device and an Anderson port for RV power appliances. The breakdown of ports includes 6 AC outlets, 2 USB-A ports, 4 USB-C ports, 1 RV/Anderson port, 2 C5521 outlets, and one car outlet.
The US version of the device also comes with a TT-30R Adapter Cord for RVs, whereas UK and Europe versions have 14 outlets instead of 16, as in the US and Japan. 
Take Control in Your Hands
Ugreen works with the aim of making the usage of portable power stations as convenient for users as it can be. Owing to it, Ugreen have launched an innovative app controlling feature. This means you can now control your PowerRoam 2200 from anywhere! 
Simply download the app and access its different smart controlling features, like Quiet Mode, Power-Saving Mode, Child Safety Lock functions, and more. You can also adjust power settings, run diagnostic checks, and confirm the remaining charges of your PowerRoam 2200, all in real-time from your mobile device. Isn't it amazing?
Conclusion
In short, the Ugreen PowerRoam 2200 Power Station is a must-have device for those who suffer from frequent power outages or are always on the hunt for camping adventures. This guide has shed light on multiple features of the device that, once considered, will surely tempt you to get the product in no time. Hope this info was helpful; stay tuned!