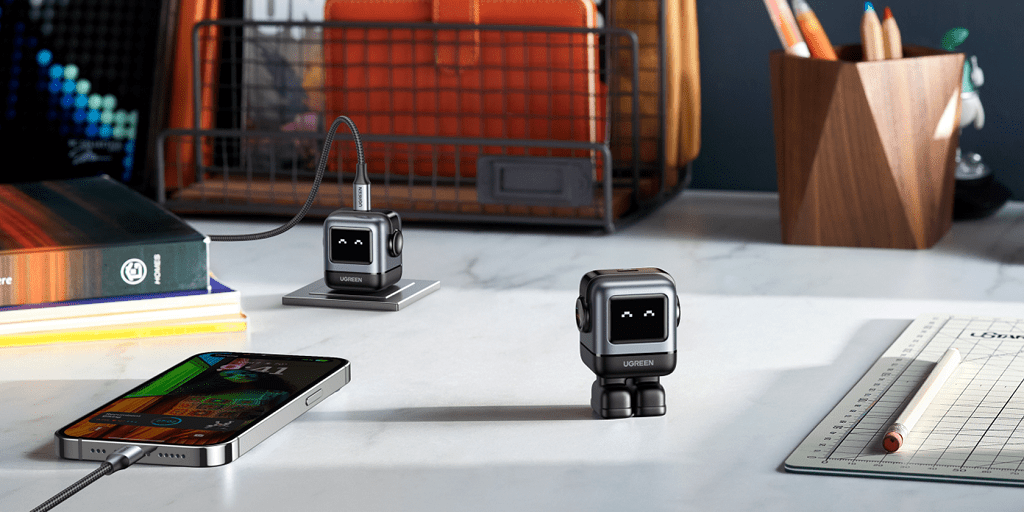 Exploring the Features of the Nexode RG USB C Gan Charger
The primary reason you ended up on this guide is probably because you heard about the exceptional Ugreen Nexode RG USB C GaN Charger and are inclined towards purchasing it.  However, like any user, you want foolproof assurance about whether purchasing this particular product might come in handy for you or not. If that is the case, you have landed on the right page.
Below, we have a detailed buying guide on the exceptional Ugreen Nexode RG USB C GaN Charger, which will help you decide whether purchasing it will work in your favor.
What is the Ugreen Nexode RG USB C GaN Charger?
The Ugreen Nexode RG USB C GaN Charger is a charger consisting of gallium nitride, unlike the silicon in regular chargers. These chargers work towards providing sufficient charge to your devices swiftly and efficiently.
However, while all this is great, this is not where the Ugreen Nexode RG USB C GaN Charger limits its exceptional working. Many other high-quality features make this particular charger worth the buy. Want to know what these factors are? We have a few listed below!
Factors Which Make the Ugreen Nexode RG USB C GaN Charger a Great Purchase
The Ugreen Nexode RG USB C GaN Charger has gained exceptional popularity in recent times because of the factors it is equipped with. If you want to gain a detailed insight into the quality aspects this charger comes with before you decide to put your money on the table, then we've got you. Here are some of the best factors and features that make the Ugreen Nexode RG USB C GaN Charger one of the best in business:
1.High-Speed Powerful Robo-Charging
If there is one aspect anyone would want to have in their charger, it is quick and powerful charging speed, which also allows your battery to last long. Well, with the Ugreen Nexode RG USB C GaN Charger, this is precisely what you get. The charger is equipped with gallium nitride, which provides more power, unlike the regular silicone chargers. 
With better power, these chargers can provide high speed ultimately charging your devices swiftly. One example of this particular charger's efficiency is that when tested, this device swiftly charged the latest iPhone 14 Pro Max to 51% in less than 30 minutes. Hence, if a swift and powerful charger is your requirement, this charger will sit well with your demand.
2.Smart Charging Status Display
The times have changed, and people now, along with high-quality products, require those that look nice, too. Well, this charger checks both of these boxes, too. Not only does it charge efficiently, but it also shows the charging status display in real-time with various cute expressions. The charger displays both eyes and mouth when it is kept on charging. However, when fully charged, the mouth disappears, indicating that you can unplug your device.
3.Equipped with 3-in-1 Ports
Another significant aspect of this Ugreen Nexode RG USB C GaN Charger is the 3-in-1 port it comes with. The charger has 2 USB C ports and 1 USB A port and can support charging various devices. Not only this, but with three ports in one charger, a user can put multiple devices on charge at the same time, too! How cool is that, right?
4.Next-Gen Protection in a Futuristic Shell
While efficient working and a good outlook were two primary concerns of Ugreen, they weren't the only ones. In fact, another significant factor that Ugreen has solely focused on is the safety and protection in its use. The charger comes with a flame-retardant shell and Airpyra stacking technology, providing maximum safety. Moreover, the removable shoes protect the charger's prongs and ensure they remain safe for long.
5.Cooler and Safer to Use
This  Nexode RG USB C Gan Charger has a built-in thermal guard protection that never lets the charger heat above mildly warm. This feature monitors the temperature changes in real time and prevents the charger and your device from heating up excessively. Moreover, the chargers also provide short-circuit protection, overload, and overvoltage protection.
6.GaNFast Chip Beats Regular Charger in Efficiency
The Ugreen Nexode RG USB C GaN Charger comes equipped with ice-cold GaNFast Chips, which work exceptionally towards energy conversion and heat loss. The equipment of these chips in the RG provides 95% of energy conversion efficiency. This means that the charger would provide less energy loss and better heat reduction. Not only this, but the GaNFast IC would also enable your device to charge faster and save energy.
7.Compatibility with Multiple Devices
For people who use the same charger for multiple devices, always make sure to invest in chargers whose compatibility matches this demand. If you are someone who is on the lookout for a charger that supports various fast charger protocols like PD/QC/SCP/FCA and is compatible with all modern smart devices, then the Ugreen Nexode RG USB C GaN Charger is your best bet to make.
8.Environmental Friendly
Apart from providing high-powered charging, the Ugreen Nexode RG USB C GaN Charger also inclines towards ensuring environmental safety. With the GanFast chip inside these chargers, users can reduce up to 8.8 pounds of CO2. Moreover, it is estimated that by 2050, just because of these chargers alone, an estimated total of 5,503 tons of CO2 will be reduced. This goes on to speak about how your decision to purchase this charger will not only work out in your favor but will also benefit the world.
Conclusion
The Ugreen Nexode RG USB C GaN Charger is a great purchase. These chargers have exceptional features and aspects equipped within them, which together make them one of the best sellers in the market. If you were inclined to purchase these but wanted to know whether buying them would be worth it, then we hope this guide was helpful for you.