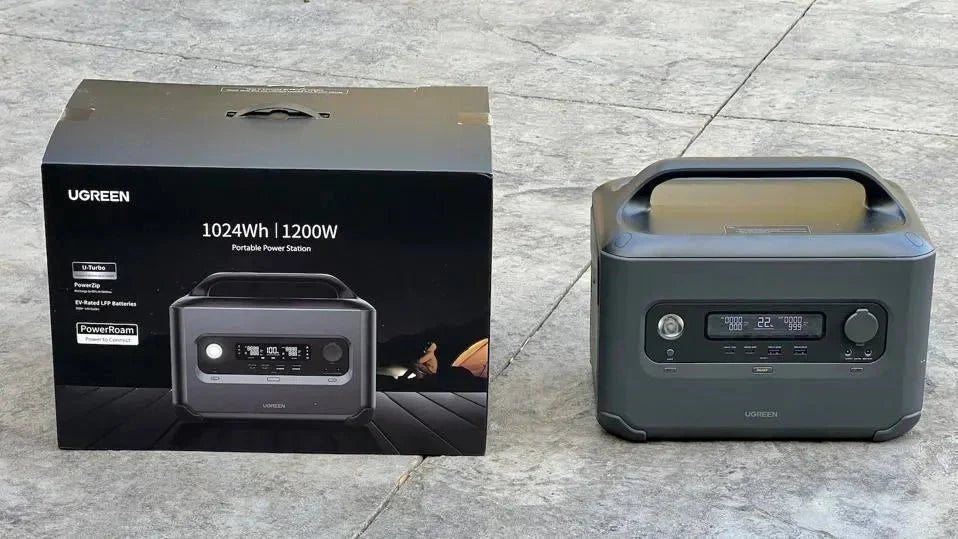 [Forbes]Review: Ugreen's New PowerRoam 1200 Portable Power Station
Note: The article was originally published on www.forbes.com and was written by Brad Moon. To access the original article, click here.
Ugreen – a brand you might recognize for its extensive lineup of chargers, hubs, cables, and more – recently released a new portable power station. The Ugreen PowerRoam 1200 is a 1024Wh model with LiFePO4 batteries, 13 output ports (including six AC outlets with 1200W output), fast-charging, wireless connectivity, and a very manageable 25.4 pound weight. It can also be paired with portable solar panels for a completely off-the-grid backup or camping power solution. With a $999 MSRP (available at discounted pricing at time of publication that knocks a good chunk of that off), the PowerRoam 1200 is a compelling option.
The Ugreen PowerRoam 1200 BRAD MOON
First Impressions and Setup
The PowerRoam 1200 makes a solid first impression.
Portable power stations in this capacity are starting to adopt a fairly similar form factor – basically a gray plastic box with rounded edges, a molded plastic handle on top, cooling vents on the ends, and a display on the front. This one is attractively executed with no rough edges, and bumpers on the bottom corners. What does make it a bit different from the rest are the location of its AC outlets, which are all arranged on one end instead of on the front. You'll still find USB outlets on the front, but I think this approach makes for a less fussy appearance and makes it easier to position the power station so you can see the display when devices are plugged in.
The powerRoam 1200 is equipped with a useful LCD display. BRAD MOON
The opposite end houses power inputs (including solar), which are concealed beneath a hinged door. The LCD display is crisp, bright enough to make out even on a sunny day, and shows the information you'll care about, including current power use and percent of battery charge remaining.
The PowerRoam 1200's front is clean thanks to AC outlets being positioned on the end of the power ... [+]BRAD MOON
Despite being equipped with LiFePO4 batteries (which trade a heavier weight for enhanced safety and longer life compared to Li-Ion), the power station weighs just 25.4 pounds. This makes it truly portable.
At just 15.4 lbs, this portable power station is actually easy to carry around.BRAD MOON
Setup is a matter of plugging in the power cable to fully charge the batteries (which can take as little as 1.5 hours), then downloading the app and connecting via Bluetooth or Wi-Fi. The app is optional, but does offer remote access and other features – more on that shortly...
PowerRoam 1200 Key Specs
1024Wh LiFePO4 batteries with 10-year service life and 3,000+ charge cycles 
6 x AC outlets (3 with ground plug), 2 x 100W USB-C ports, 2 x 25W USB Type-A ports, 120W DC output, 2 x DC5521 
1200W total AC output with surge support up to 2500W 
Recharges in as little as 1.5 hours with PowerZip fast-charging 
LCD display 
Integrated flashlight Bluetooth and Wi-Fi connectivity 
Multiple modes via app including Quiet Mode with lowered fan noise 
Measures 13 x 8.7 x 10.6-inches, weighs 25.4 lbs 
Includes AC charging cable, car charger cable, solar parallel adapter, accessory bag
Portable Power Station in Action
As I typically do with higher capacity power stations, I tested the PowerRoam 1200 with my basement refrigerator. Used for storing leftovers, drinks, and whatever won't fit in the main refrigerator, this is a 21 cubic foot model that is several decades old. So it's not particularly energy efficient. At the time of testing, we were also in the midst of a heatwave. The AC was on, but the basement wasn't as cool as usual so the fridge had to work a little harder.
The Ugreen PowerRoam kept the refrigerator running for approximately 15 hours, which was a pretty good showing.
Enough power to keep a full-sized refrigerator running for 15 hours. BRAD MOON
The power station's 1024Wh capacity means you could charge a smartphone over 70 times. And its 1200W output (with surge to 2500W) means you could also use it to power high demand appliances like an electric kettle or coffee maker.
Even when battery capacity is at 0%, a battery emergency mode will keep the flashlight going or even top up your smartphone using reserves.
Wireless access with an app gives additional functionality. Not just remote charging and battery status info, but also access to features like modes including power reduction modes, UPS mode, and others. When it worked, it worked well. However, I did have occasional issues with both Bluetooth and Wi-Fi where the power station refused to connect to my iPhone. I maybe wouldn't count on the app for critical remote functionality...
Go Off-the Grid With Solar Panels
1024Wh sounds like a lot of capacity, but if you have a power outage that lasts for days – or you're relying on the PowerRoam 1200 for a camping trip – that battery can be used up relatively quickly.
However, plug into a solar panel, and you can recharge the PowerRoam 1200 without having access to an electrical outlet or a vehicle. The power station supports connecting a pair of Ugreen's portable solar panels to do just this. I used a single, 200W Ugreen folding solar panel and without fussing with making certain the panel was optimally positioned throughout the day, I got a 65% charge over the course of nine hours. A pair of the panels would have easily fully recharged the power station.
I'll have a full review of that solar panel separately, by the way.
Plug in a Ugreen folding solar panel to recharge off-the-grid BRAD MOON
Ugreen PowerRoam 1200 Recommendation
It's far from a whole-home power backup solution, but it's also far more capable than the portable battery power stations you usual find in hardware stores. The Ugreen PowerRoam 1200 delivers truly portable home emergency backup (or camping power) that will keep a full-sized refrigerator running for 15 hours, critical equipment like CPAP machines going for even longer, and has the power to handle everything from a smartphone to an electric kettle. And its 1024Wh LiFePO4 batteries ensure you'll be able to use this power station for years.
Not bad for under $1,000.
Disclosure: Ugreen provided a PowerRoam 1200 for evaluation purposes but had no input into this review.