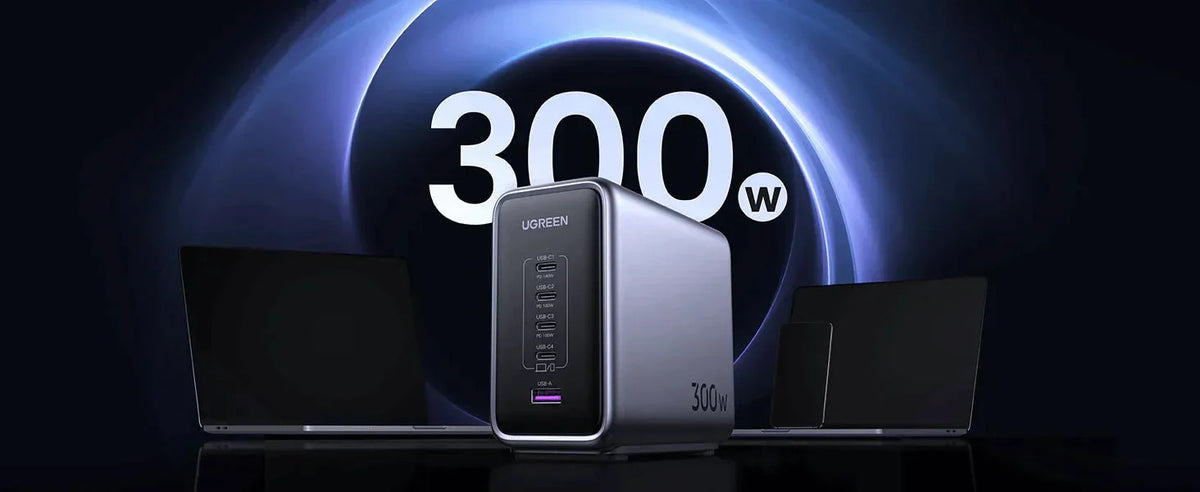 Ugreen 300W 5-Port PD GaN Fast Charger: Faster, Safer, Carbon Neutral
Get inspired by the latest gallium nitride (GaN) based charger that is more compact, energy-efficient, and quick to charge than traditional chargers. Ugreen has cemented its name as one of the leading charging accessories and peripherals brands and now collaborates with Navitas Semiconductors. 
The result of this collaboration is that the latest Ugreen 300W 5-Port PD GaN Fast Charger is faster, safer, more efficient, and able to charge five different devices simultaneously. Here is why you should dispose of uncluttered extensions, multiple cables, and chargers for one super streamlined GaN charger.
High Compatibility – Readily Accessible Power
Hop inside to learn how high compatibility can ensure instant power availability!
High Compatibility
The high compatibility comes with 4 USB C charging ports with varying power outputs conforming with the latest international standards where most devices are unifying charging options. For everything else, the USB A port is sufficient.
More Power on the Table
The 4 USB C charging ports provide starting from top, 140W, 60W,60W and 30W charging options. While the USB A provides 22.5W charging. If instead of using all four ports, you use the top 2, you get 140 and 100W charging. The top remains the dedicated 140W charging while the others share the total power.
Mind-Blowing Power
No matter the scenario, you can easily charge power-intensive devices like laptops, projectors, and speakers during a long meeting. All you need is the device placed in the center, and everyone can share this small device's immense power.
Fuss Free Home Power Charger
After a long day at work, you can charge your laptop, EarPods, and smartwatch to full power while playing on your portable console as it comes back to full power. 
Save Time Wisely and Efficiently
No more searching for cables and spending time in cable management; place the Ugreen 300W 5-Port PD GaN Fast Charger where you work or play, and you are set. With fast charging ports, you save tons of time charging your devices. For instance, a 16-inch MacBook Pro can charge up to 56% in 30 minutes. Going out, connect your devices, and by the time you shower and get ready, your devices will be fully charged. 
That's not all; the device follows the best charging protocols, including PD/QC/SCP/FCA/AFC, and does the job efficiently without overheating your devices. These protocols make it highly compatible with most devices like laptops, mobiles, tablets, portable consoles, smart watches, etc. You will never have to worry about getting late because of slow charging or reducing battery life without damaging them.
Here are some of the device types supported by this charger:
Device Type
Brand
Model
Phone
Apple
iPhone 8-14 series、 iPhone SE2
Huawei
mate 10/20/30/40 series、P10/20/30/40/50 series、Nova 2-9 series
Hornor
10/10 Pro、20/20 Pro、30/30 Pro、40/40 Pro、V10/20/30/40
Xiaomi
mi 8/9 SE、mi 9/9 Pro/9 SE、mi 10/10 Pro、mi 11/11 Pro、mi mix 2/2S
Samsung
S21/21+/21 Ultra、S20/20+/20 Ultra、S10/10+、S9/S8、note 9/10/10+
Table
Apple
iPad Pro 10.5/11/12.9   iPad Air3、iPad mini5/6
Computer
Apple
MacBook 12、MacBook Air 13 、MacBook Pro 13、MacBook Pro 16
Peak Reliability and Safety
GaNFast 3 Chip and Thermal Guard – Ugreen 300W 5-Port PD GaN Fast Charger comes with the Professional GaNFast 3 Chip and Thermal Guard that continuously monitors the power and temperature.
Each minute, the chip takes 6,000 readings in real-time, providing first-class safety not allowing your devices to overheat or overcharge.
Fire Resistant and Retardant PVC Shell – The body comes with first-rate, high-quality fire resistant, and fire-retardant solid PVC material you can trust. As a portable device, it is common to drop; with this solid PVC body, no damage will occur.
Multiple Ports Charging Guide
The device utilizes the two professional-grade GanFast 3 charging chips to intelligently supply power to 5 devices at once without sacrificing efficiency. The total power that you get is 300W. Here, the top/first port will always give 140W while dispensing varying charging to other ports as needed. 
Here are its five charging scenarios.
Single Device (1-Port Charging) – The first port will give you 140W, 2nd and 3rd 100W, while 4th and 5th will give 45 and 22.5W charge.
Two Devices (2-Port Charging) – if you connect the first two ports, you get 140 and 100 watts, the same with 1st and 3rd, but for 1st and 4th, you only get 140 and 45 watts.
Multiple Devices (3/4/5-Port Charging) - You will get varying charging options based on different charging ports and devices, which you can view on their websites. You also get a manual with the box, as shown below, that shows how each port works.
Clean Green GaN Power Machine!
Legacy silicon ICs will now be a thing of the past as GaN power ICs are the greener option and power solutions. These chips immensely help reduce carbon emissions and are 30% more carbon neutral than their predecessors. According to the Navitas testing and estimates, these charging devices can remove 2 Gtons of CO2 by 2050 by charging alone.
Global Power Neutrality
The latest technology of using Gallium Nitride in place of Silicon-based chips not only performs better and faster but produces less carbon emissions. These chips produce ten times lower emissions in their lifecycle. 
The same is true for power-intensive data centers. Replacing conventional chips for GaN power-chipped devices would save 100 MW-hours of energy equivalent to solar power, which wastes 30-40% less energy and reduces 120+ million tons of CO2 emissions. 
Due to so much energy and power saving, GaN power chips help save energy from energy and chemical processing during production. Overall, the support the environment gets from using GaN power solutions far outweighs the silicon-based chips. 
Ugreen 300W 5-Port PD GaN Fast Charger Tech Spec
| | |
| --- | --- |
| Input Voltage | 16.57 x 5 x 4.25 inches |
| Compatible Devices | For Laptops: MacBook Pro/Air M2, Dell XPS, Surface Book, ThinkPad, For Tablet: iPad Pro 12.9" / 11" Series |
| Compatible Phone Models | iPhone 14 / 14 Plus / 14 Pro / 14 Pro Max / 13 / 13 mini / 13 Pro / 13 Pro Max / iPhone 12 / 12 Pro / 12 Pro Max, Galaxy S23 / S23+ / S23 Ultra / S22 / S22+ / S22 Ultra / S21 / S21+ / S21 Ultra / Note20 / Note20 Ultra |
| Special Feature | Support multiple charging protocols: PD3.1、PD3.0、PPS、QC5.0、QC3+、QC3.0、SCP(10V2.25A)、FCP、AFC、APPLE 5V2.4A、Sumsung 5V2A、BC1.2, comes with 240w charging cable 4.92ft |
| Protocol | USB C Port:PD3.0(PD2.0) /QC4+(QC4.0\QC3.0\QC2.0)/PPS /AFC/APPLE 5V2.4A/BC1.2USB A Port:SCP/QC3.0/AFC/FCP/APPLE 5V2.4A/BC1.2 |
Charging Precautions
While the build quality is exceptional, and it has a high-grade PVC body, there are some precautions that you must consider when operating the Ugreen 300W 5-Port PD GaN Fast Charger.
📝Don't use the prolonged charging function outdoors under extreme tropical temperatures and sunlight, as it may heat up the device.
📝Please don't use it during rain, even under shade.
📝Prolonged use in humid environments is not recommended; utilize a dehumidifier if you have to.
📝Please do not try to disassemble or repair it yourself; take it to a certified professional to avoid experiencing high-voltage electrical shock.
📝Always keep it out of the reach of children and store it safely.
Final Thoughts
Ugreen 300W 5-Port PD GaN Fast Charger comes at an excellent price of $269 and is readily available on Ugreen Official Website. With the price so affordable, fantastic size and portability, high-end power supply with five devices at once that can fast charge, there is no comparable device in the market. With the drive towards carbon neutrality, this device is a must-buy for offices and teams that collaborate regularly.