Fast, Free Delivery
30-day Risk-Free Trial
Two-year Warranty
Black Friday Product - Switch
40%
OFF
Secret Coupon Code
Split your UGREEN.com total purchase into 4 interest-free payments. No credit impact to apply. Learn More
Pay with Ease
Overview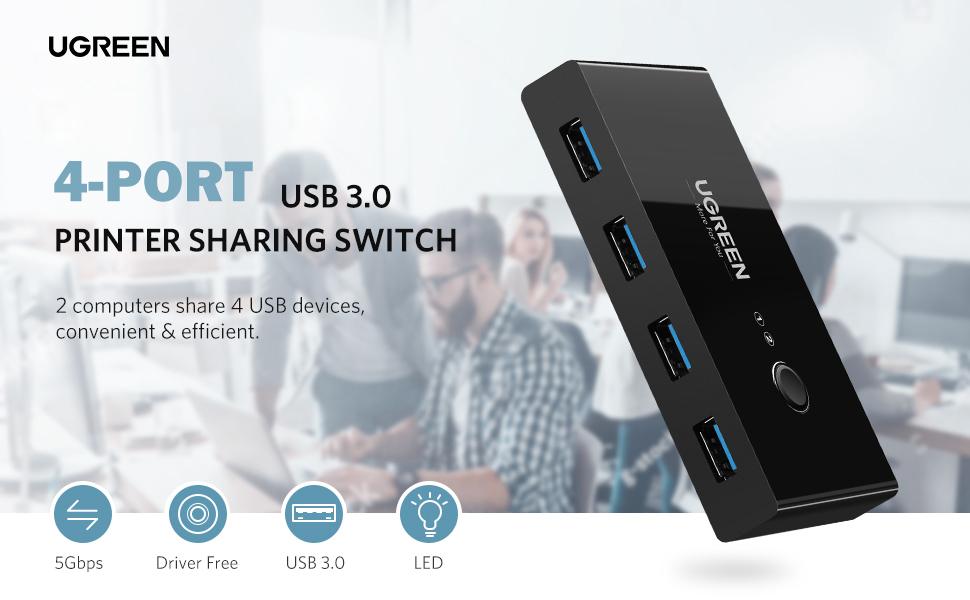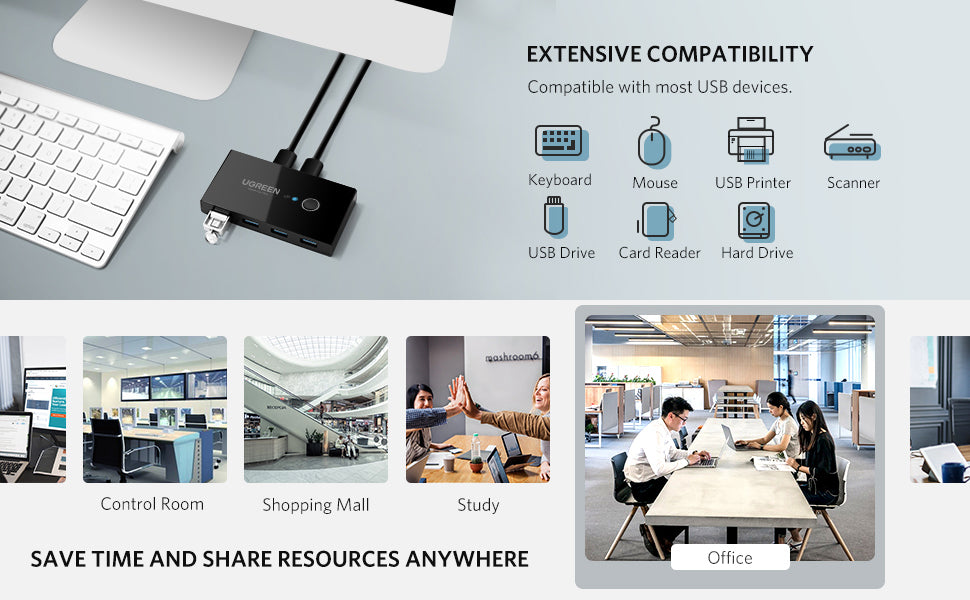 UgreenUSB 3.0 Switch 2-to-4 is an excellent choice to share 4 USB devices between 2 systems. It's ideal for sharing a printer or scanner in a small office environment. It's also great for use at home if you have multiple PCs or Macs.

Universal USB 3.0 Device
This USB Switch would Works with all USB 3.0 devices, such as external hard disks, high-resolution webcams, camcorders, video surveillance cameras, digital video cameras, multi-channel audio and more.

USB 3.0 High Speed
USB 3.0 Switch supports high-speed USB 3.0 data transfer rates up to 5Gbps which is 10 times faster than USB 2.0.

Easy Installation
This USB 3.0 switch is plug and play, with no additional driver installation. USB bus-powered, no power adapter required.

Please Note
1. This switch requires manual control to select the active computer port; it does not 'automatically' switch between ports.
2. Noise will occur when connected with Mechanical Keyboard and mouse.
3. Use the provided 4.92ft cables to connect the USB switch to your computers and keep the USB cable that connects your peripheral to the USB switch under 5.9ft.
If you want to use it with MacBook or other USB C enabled computers, a USB C male to USB A OTG adapter(not included) is needed.
2 Pcs USB Cables Include: This item comes with1.5 M USB 3.0 A to A Cable *2, no need to buy USB cables for your computers separately.
Led Indicator: LED indicator lights allow you to know which computer is in control easily.
Touch Button Switch: Button switch design, switch at one push, easily switches between two computers via touch button.
Black Friday Product - Switch
$36.99