Fast, Free Delivery
30-day Risk-Free Trial
Two-year Warranty
Ugreen USB 2.0 Switch, 2 In 4 Output USB KVM Switch
allows one button swapping between 2 computers to share 4 USB 2.0 peripheral devices
Share the USB devices between 2 computers.
Driver-free, simply plug and play.
One-button switch & LED light Indicator.
Split your UGREEN.com total purchase into 4 interest-free payments. No credit impact to apply. Learn More
Pay with Ease
Overview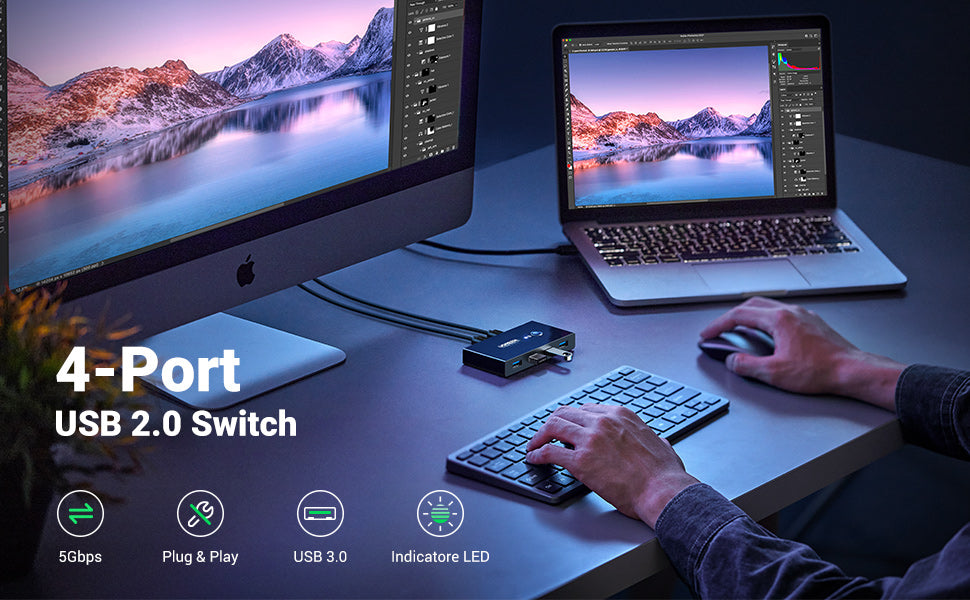 UGREEN USB 2.0 Switch, 2 In 4 Output USB KVM Switch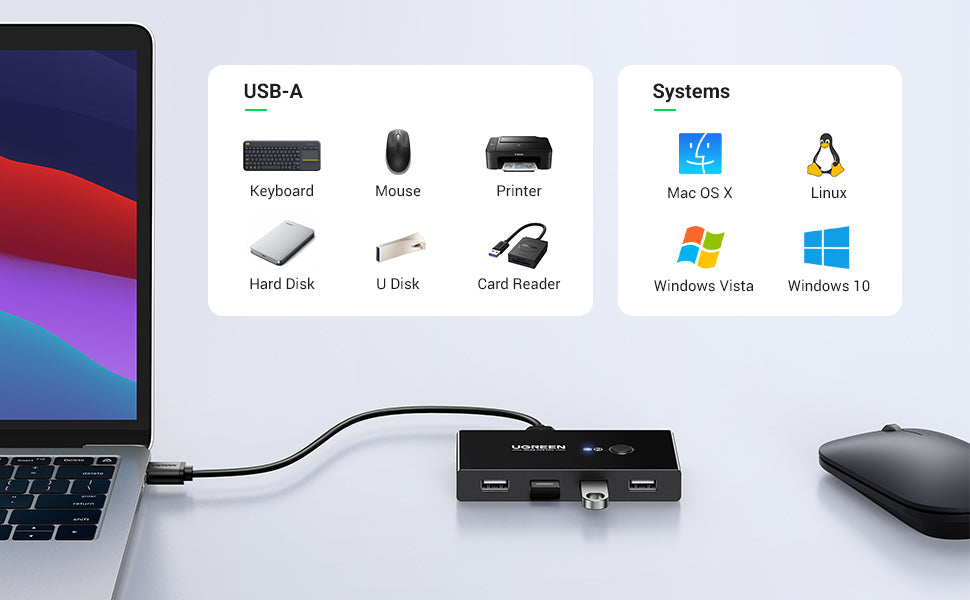 Which Switch Fits You Best?
Interface Type
USB 2.0
USB 3.0
HDMI 2.1
HDMI 1.4
Mini HDMI & HDMI
Number of ports
2 in 4 Out
2 in 4 Out
2 in 1 Out
3 in 1 Out
Mini HDMI & HDMI Bi-Directional Transmission
Specification
480Mbps
5Gbps
8K@60Hz
4K@30Hz
4K@60Hz
Indicator Light
✔
✔
✔
✔
-
Cable Included
2x USB A to A cables
2x USB A to A cables
1x USB-A to C cable
-
-
Specs
| | |
| --- | --- |
| Operating Voltage | ‎5 Volts |
| Switch Type | ‎Pushbutton Switch |
| Mounting Type | ‎Plug-In Mount |
| International Protection Rating | ‎IP54 |
| Number of Positions | ‎2 |
| Unit Count | ‎1.0 Count |
| Operating System | ‎Mac os x, Linux, Windows xp, Chrome os, Windows vista, Windows 10 |
| Item Weight | ‎5.3 ounces |
| Product Dimensions | ‎2.09 x 0.63 x 3.94 inches |
| Computer Memory Type | ‎72-Pin EDO SIMM Memory |
| SKU | ‎30767 |
Ugreen USB 2.0 Switch, 2 In 4 Output USB KVM Switch
$23.99